Welcome to Part I of my 5-part series: My Top 5. Each week on Monday I will release a video and blog post listing my Top 5 favorite makeup items in a category. This week is Setting Powders. Keep reading to find out what my Top 5 Setting Powders are, or watch my video on my YouTube channel.
Top 5: Favorite Setting Powders
Number 5
Number five on my list of favorite setting powders is the Maybelline Fit Me Set + Smooth Setting Powder.
As you can see, I've hit pan on this one, as it is a regularly-used powder in my house. This pressed powder works great for dry skin. There is another version of the powder, known as Matte + Poreless, which is for oily skin. I used to use that one before I took Accutane, and it works great, too, but now with my post-Accutane dry skin, the Set + Smooth works much better. It is a creamy powder, and I actually find that it is best to use the little puff that it comes with, so that it really applies a thick layer to my skin. This provides full coverage and a soft, even finish. I really love this powder, and it is really inexpensive, to boot.
Number 4
Next on my list is the Hourglass Ambient Light powder, Dim Light. I have this in the trio palette that they carry, and I have also hit pan on it.
I would probably put this powder as number one, but it's super expensive! It is $45 for one container of Dim Light on Sephora. This pressed powder has a unique formulation that catches the light and changes the finish of your skin. It's actually not a setting powder at all, but more a finishing powder. This means that you apply it on top of your setting powder (which simply sets your makeup) to create a special finish. Dim Light is a neutral peach beige powder and it makes your skin look flawless and airbrushed! It's hard to describe what this powder is like; go swatch it at a Sephora or pick some up to try off the website, because it is so worth it!
Number 3
Number 3 on my list of my Top 5 Setting Powders is the Bare Minerals Mineral Veil.
This is a soft pink loose powder that also creates a flawless and soft, airbrushed finish. I love how soft and smooth my skin looks and feels when I use this powder. It has a light and airy consistency and blends out as a translucent, perfected finish. I like this powder so much that I became an affiliate for Bare Minerals. You can pick up this powder here and I will receive a small commission.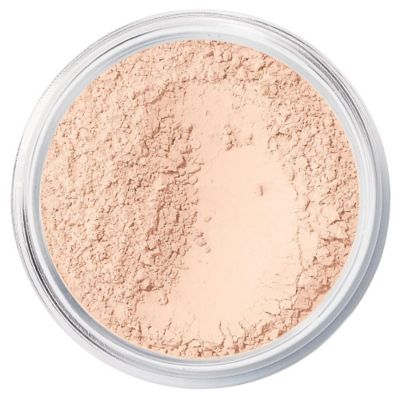 Number 2
My Number 2 and Number 1 favorite setting powders are kinda of a tie. I use each of them a lot, but for different purposes. We will go ahead and call Number 2 as the Kat Von D Lock-It Brightening Setting Powder in Peach.
This is a loose powder that has a brightening effect. This powder creates the most smooth, flawless, perfected, airbrushed look out of any of the powders. Like the Maybelline Fit Me powder, this powder has some coverage to it, so it's great for days when I want to go lighter on my liquid foundation or when I want extra coverage. The reason I put this as Number 2 is that, since it has coverage, it will cover up any cream contouring or highlighting that you have done prior to applying this powder. For the days that I spend time contouring and highlighting with cream , I don't want to just cover it up with this powder. In those cases, I use my Number 1 powder. But for the days where I plan to contour and highlight with a powder on top of my setting powder, I will use this one because I love the look it gives. This powder is also a lot less expensive than the Hourglass powder, at $25.00 for a jar at Sephora.
Number 1
My Number 1 setting powder is the Laura Mercier Translucent Loose Setting Powder.
This is just such a versatile powder. It is completely translucent, so you can apply it on top of cream contour and highlight without covering up the work you've done. It creates a soft, velvety finish that looks so pretty. It's a tad expensive, at $38.00 for a container, but it is a huge container! Overall I think this powder is an all around great powder that will work for so many skin tones. They also have a Translucent Medium Deep shade for those with darker skin tones, and they carry a travel size of the Translucent for $23 at Sephora.
Conclusion
That's it for my Top 5 setting powders. What are your top 5 powders? I would love to hear from you! Stay tuned next week for my Top 5 concealers! XOXO Carly